Johnson Brother's Wine Dinner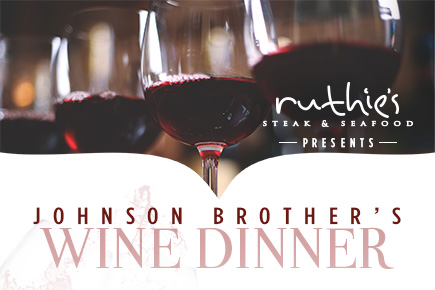 Wednesday, October 17, 2018 at 7 P.M.

Enjoy six courses and five delicious wine pairings. You'll love the exquisite menu featuring a Berkshire pork chop with apple fig marmalade, carved filet of tenderloin paired with chateau sauce with Portobello mushrooms & more.

Space is limited.

Tickets are $65 plus tax

Full menu:

First Course:
Maytag Bleu Dates with Warm Bacon & Vermont Maple Glaze Paired with Chateau Saint Jean Sparkling Rose, California

Second Course:
Savoy Spinach and Frisee Blend tossed with Roasted Butternut Squash, Candied Walnuts, Drunken Goat Cheese, and a Creamy Vidalia Dressing Paired with Chateau Saint Jean North Coast Chardonnay

Third Course/Intermezzo:
Limoncello Sorbetto

Fourth Course:
Berkshire Pork Chop with Apple Fig Marmalade Paired with Monterey Vineyard's Monterey County Pinot Noir

Fifth Course:
Carved Filet of Tenderloin Paired with Chateau Sauce and Portobello Mushrooms Paired with Beringer Knights Valley Cabernet Sauvignon

Sixth Course:
Roasted Pear cake with Smoked Maple and Bourbon Ice Cream Paired with Beringer Bros. Bourbon Barrel Aged California Chardonnay

Dinner starts at 7 P.M.