Michael McDonald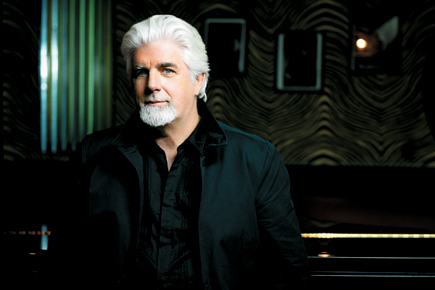 Sunday, May 27, 2012 at 8PM

Two notes. That's all it takes to recognize the voice of Michael McDonald. Distinctive and soulful, it is one of the most yearningly emotive instruments of our times. To this add formidable songwriting and keyboard skills, and you have an artist who has been a singular musical presence for four decades. From '70s-era Doobie Brothers classics such as "What A Fool Believes" and solo hits like "I Keep Forgettin'" through two highly-acclaimed Motown covers albums and recent genre-busting guest spots with alternative buzz bands Grizzly Bear and Holy Ghost, the five-time Grammy-winning McDonald is that rare thing in contemporary pop – an artist whose work is both timeless and ever-evolving.
Born into a musical family in St. Louis on February 12, 1952, Michael started singing when he was four years old. After tinkering with banjo and guitar, he found his true passion at the piano. Soon he was writing his first songs and doing the time-honored apprenticeship with bands in the family garage. Determined to pursue music full-time, McDonald moved to L.A in the early '70s, where he honed his skills as a session musician and singer.

That soon led to an invitation to join Steely Dan. Over the course of four classic albums, from Katy Lied to Gaucho, McDonald became an integral part of the group's sound, singing background vocals on FM staples like "Black Friday" and "Peg."

In the mid-'70s, McDonald joined The Doobie Brothers, helping the band redefine their funky R & B sound as a singer, keyboardist and songwriter on such Top 40 singles as "Takin' It To The Streets," "It Keeps You Runnin'," "Minute By Minute" and "What A Fool Believes."
His distinct vocal style also made him one of the world's most sought-after session singers. Beyond his hits with The Doobies, McDonald has lent his voice to records by an A-Z of artists, including Ray Charles, Aretha Franklin, Elton John, Joni Mitchell and Vince Gill. During the '80s and '90s, his solo career zoomed from success to success on the wings of evergreen hits like "I Keep Forgettin'," "On My Own" (a duet with Patti LaBelle) and the Grammy-winning duet with James Ingram "Yah Mo B There."
Continuing to explore new vistas, in 2003 and 2004, McDonald released his Grammy-nominated, platinum-selling pair of Motown albums. Then in 2005, he partnered with Hallmark for a special Christmas album, Through The Many Winters, which sold 500,000 copies in its first two weeks.
With a career that encompasses five Grammys, numerous chart successes, personal and professional accolades, as well as collaborations with some of the world's most prominent artists, Michael McDonald remains an enduring force in popular music.

Tickets are $60, $55 or $50 plus tax and an online/phone ticketing fee (this fee is waived when tickets are purchased in the Gift Shop). Tickets in the ADA section are for patrons with mobility disabilities and up to three companions. If companion seating is not available because the ADA section is sold out, GFCR will offer other seats as close as possible to the accessible seat, if available, at the purchase price of the other section. Tickets are on sale in the Gift Shop and online, or by calling 877-511-4FUN.

Hotel packages are available by calling 877-511-4FUN. Packages include a one night stay in a deluxe king or double queen room, two tickets to the show and two dinners at Robert's Buffet. There are a limited number of hotel packages available.

Doors open at 7pm for the 8pm show. Must be 21+ to attend this show.