Bill Engvall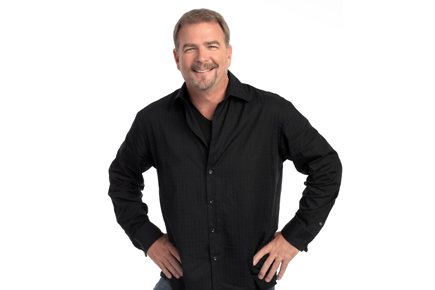 TWO SHOWS AVAILABLE!
Friday, October 26, 2012 7:30pm or 9:30pm

The thing that makes any entertainer successful is the ability to connect with an audience. It's the quality of sharing the humor in everyday situations that has made Bill Engvall one of the top comedians today and among the busiest.
Bill has starred in and executive produced his own self-titled sitcom for TBS, which ran for three seasons. He was the host of one of the top rated shows on CMT,Country Fried Home Videos and one of the stars of the sketch comedy show, Blue Collar TV, on the WB network. He shot a special for the WB network called Mobile Home Disasters, which helped propel the network to one of its best Thursday nights of the season. In 2008 Bill starred in Bait Shop which co-starred Billy Ray Cyrus and had its world premiere on the USA Network. Bill was part of the enormously successful Blue Collar Comedy concert films, which have sold more than 9 million units and are some of the most watched movies and special in Comedy Central history. The soundtrack for Blue Collar Comedy Tour- One For The Road (Warner Bros./Jack Records) was also nominated for a Grammy Award. Along with his Blue Collar movies, Bill has several solo specials which aired on Comedy Central including Aged and Confused ( 2009), 15° Off Cool ( 2007) andHere's Your Sign, Live (2004). That DVD has been certified multi-platinum.
A native of Galveston, Texas, Bill moved to Dallas and was working as a disc jockey with plans of becoming of a teacher. While in a nightclub one evening, Bill decided to try his hand at stand-up comedy and quickly found that making people laugh was truly his forte. Soon after, he decided to move to Los Angeles to pursue television opportunities. First there was a Showtime special, A Pair of Joker's with Rosie O'Donnell, followed by hosting A&E's Evening at the Improv and appearances on both The Tonight Show and the Late Show with David Letterman. In 1992, Bill won the American Comedy Award for "Best Male Stand-up Comedian." After appearing in episodes of "Designing Women," Bill went on to portray Buck Overton on the ABC sitcom, Delta" starring Delta Burke. Bill also starred in the NBC series, The Jeff Foxworthy Show, where he played Jeff's best friend. Bill resides in Southern California with his wife and two children. Additional information is available at www.billengvall.com.

Tickets are $45 or $55 plus tax and an online/phone ticketing fee (this fee is waived when tickets are purchased in the Gift Shop). Tickets in the ADA section are for patrons with mobility disabilities and up to three companions. If companion seating is not available because the ADA section is sold out, GFCR will offer other seats as close as possible to the accessible seat, if available, at the purchase price of the other section.

Hotel packages are available by calling 877-511-4FUN. Packages include a Friday night stay in a deluxe king or double queen room, two tickets to the show and two dinners at Robert's Buffet. There are a limited number of hotel packages available.

Two shows available: 7:30pm & 9:30pm.
Doors will open at 6:30pm for the 7:30pm show and approximately at 9pm for the 9:30pm show. One ticket purchase = admittance to 1 show.