Bob Newhart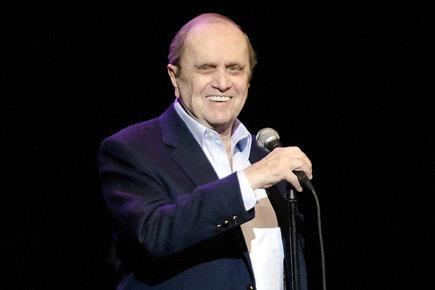 Saturday, October 19, 2013 at 8pm

Join us in October for the 52nd Anniversary show of Comedy Legend Bob Newhart performing at Grand Falls Casino Resort!

Bob Newhart has been entertaining the English-speaking world for over a half-century and was recently Emmy®-nominated as "Best Supporting Actor in a Movie or Mini-Series" for his turn in TNT's "The Librarian."
In 2009, the NAB, the National Association of Broadcasters, presented the veteran entertainer with its "Hall of Fame" Award at a gala in Las Vegas, the site of some of Newhart's biggest stand up triumphs, performed alongside friends such as Frank Sinatra. Newhart also recently marked another career milestone, the 35th anniversary of "The Bob Newhart Show," the iconic TV sitcom that surely made him a household name and set the tone for a generation of TV shows.
The paperback edition of his best seller, "I Shouldn't Even Be Doing This" (Hyperion Books), is currently in bookstores.
Now, the comedy legend celebrates his 52nd anniversary in show business. He kicked off his career's golden milestone with a series of live concerts nationally and The Paley Center also hosted a special event.
Signed to a record contract by Warner Bros. in 1959, a comedy recording of his early stand up act hit a nerve and became a huge best seller in 1960, winning multiple Grammy® awards, including "Album of the Year" and "Best New Artist," simultaneously sitting atop the number one and two positions on the Billboard charts for many weeks, a record only broken by the hard rock band, Guns 'N Roses.
Newhart was nominated for a 2006 Grammy® award for the spoken word version of the book and appeared alongside host Conan O'Brien at the Emmy® Awards, becoming a part of TV history as the man who kept the awards show from running past three hours.
"The Bob Newhart Show" (via Mary Tyler Moore's MTM Productions) ran on CBS TV from 1972-78, followed by the successful "Newhart" series, also originally on CBS.
PBS recently saluted Newhart's rich career with a rare honor, an "American Masters" presentation, and his first ever book, the hardcover edition of "I Shouldn't Even Be Doing This," was a New York Times bestseller. A recent guest appearance on TV's top drama, "NCIS," drew more critical acclaim, and he now has a recurring role (starting 5/2) on "The Big Bang Theory."
Since 1962, Bob Newhart has appeared in 14 feature films, including "Elf," and "Catch 22" and provided character voices for major animated films.

Dont miss out on this one night show at Grand Falls Casino Resort.

Tickets are $55 & $45 plus tax and an online/phone ticketing fee (this fee is waived when tickets are purchased in the Gift Shop). Tickets in the ADA section are for patrons with mobility disabilities and up to three companions. If companion seating is not available because the ADA section is sold out, GFCR will offer other seats as close as possible to the accessible seat, if available, at the purchase price of the other section.

Hotel packages are available by calling 877-511-4FUN. Packages include a one night stay in a deluxe king or double queen room, two tickets to the show and two dinners at Robert's Buffet. There are a limited number of hotel packages available.

Doors open at 7pm for the 8pm show.

Must be 21 yrs of age or older to attend.
.