A solo performance with Rick Springfield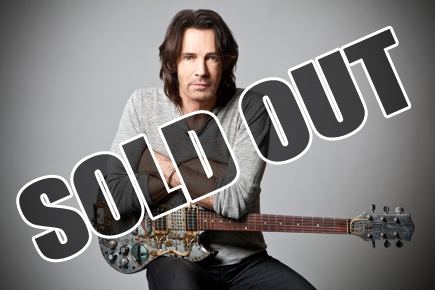 Rick Springfield....an intimate solo show
Saturday, March 29, 2014 at 8 P.M.

For all of his accomplishments as an actor, best-selling author and documentary subject, Rick Springfield has always insisted his first love is music, a passion he's harbored since first picking up the guitar at the age of 12 in his native Australia.

With 25 million albums sold, 17 top-40 hits, including "Don't Talk to Strangers," "An Affair of the Heart," "I've Done Everything for You," "Love Somebody" and "Human Touch," as well as a 1981 Grammy® for Best Male Rock Vocal win for his No. 1 hit single "Jessie's Girl" behind him, Springfield has more to say with his latest Universal Music Enterprises release, Songs for the End of the World.
"That's why I put a lot of thought and energy into making records," he says. "I'd like to continue changing people's minds about me. And I have to write about what I know about, and what's important to me. I'm still hungry."
Still playing nearly 100 live shows a year, Springfield's current musical career renaissance can be traced back to 2004's Shock/Denial/Anger/Acceptance and 2008's UMe bow Venus in Overdrive, which entered the Billboard sales charts at No. 28, his highest debut in 20 years, with Sony Legacy's 2005 retrospective Written in Rock: The Rick Springfield Anthology sandwiched in between.
With Songs for the End of the World, Rick Springfield continues to do what he does best—applying his sardonic view to life as we live it today, offering a ray of hope in the midst of all the turmoil.

Tickets are $35 & $30 plus tax and an online/phone ticketing fee (this fee is waived when tickets are purchased in the Gift Shop). Tickets in the ADA section are for patrons with mobility disabilities and up to three companions. If companion seating is not available because the ADA section is sold out, GFCR will offer other seats as close as possible to the accessible seat, if available, at the purchase price of the other section.

Hotel packages are available by calling 877-511-4FUN. Packages include a one night stay in a deluxe king or double queen room, two tickets to the show and two dinners at Robert's Buffet. There are a limited number of hotel packages available.

Doors open at 7pm for the 8pm show.
Must be 21 yrs of age or older to attend.