Williams & Ree-Comedy Weekend 2017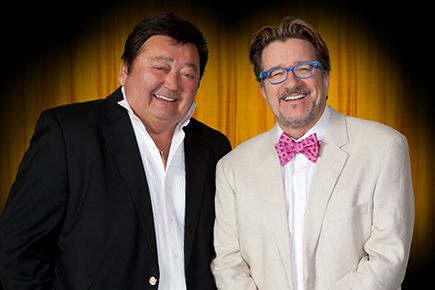 Friday, October 20, 2017 at 8 P.M.
Williams and Ree, the self-professed "Indian and White Guy," have been entertaining audiences around the world with their unique and irreverent comedy/musical style for over three decades.
Bruce Williams and Terry Ree have established themselves as proven headliners at fairs, festivals, arenas, and casino venues. They continuously refresh and reinvent themselves show after show by incorporating topical and observational humor "dripped from the headlines."Williams and Ree have the added "wow" factor of being terrifically talented musicians and singers as well.
Numerous television, radio, and commercial appearances have cemented their relationship with their fan base, promoters, and marketing directors.
The sheer longevity of this dynamic duo has allowed them to attain legendary status and point up the fact that they are truly America's favoritecomedy team!
Tickets are $20 plus tax and an online/phone ticketing fee (this fee is waived when tickets are purchased in the Gift Shop). Tickets in the ADA section are for patrons with mobility disabilities and up to three companions. If companion seating is not available because the ADA section is sold out, GFCGR will offer other seats as close as possible to the accessible seat, if available, at the purchase price of the other section. Hotel packages are available by calling 877-511-4FUN. Packages include a one night stay in a deluxe king or double queen room, two tickets to the show and two dinners at Robert's Buffet. There are a limited number of hotel packages available.
Doors open at 7pm for the 8pm show.
Must be 21yrs of age or older to attend.