Loverboy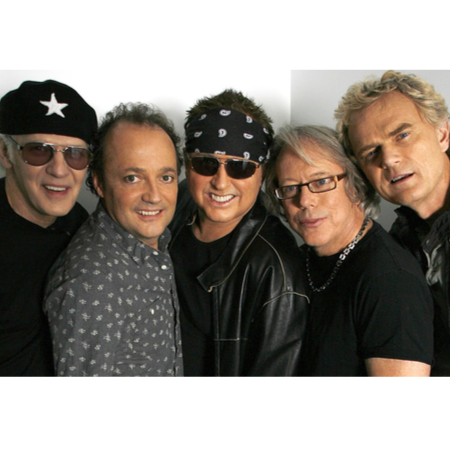 Loverboy

For more than 40 years, LOVERBOY has been "Working for the Weekend" (and on weekends), delighting audiences around the world since forming in 1978, when vocalist Mike Reno was introduced to guitar hot shot Paul Dean – both veterans of several bands on the Canadian scene – at Calgary's Refinery Night Club.

After being rejected by all the major U.S. record companies, LOVERBOY signed with Columbia Records Canada, entering the studio with producer Bruce Fairbairn and engineer Bob Rock to record their self-titled debut album, which went on to sell more than 700k records in Canada. Columbia U.S. released the album in Nov. 1980, which went on to sell more than 2 million albums in the States and four million worldwide.

Soon the band found themselves playing on mega tours with Journey, Bob Seger, Cheap Trick, ZZ Top, Kansas and Def Leppard, to name a few. They quickly became MTV darlings, being one of the first bands ever featured on the music channel.

With their trademark red leather pants, bandannas, big rock sound and high-energy live shows, LOVERBOY has sold more than 10 million albums, earning four multi-platinum plaques, including the four-million-selling Get Lucky, and a trio of double-platinum releases in their self-titled 1980 debut, 1983's Keep It Up and 1985's Lovin' Every Minute of It. Their string of hits includes, in addition to the anthem "Working for the Weekend," such arena rock staples as "Lovin' Every Minute of It," "This Could Be the Night," "Hot Girls in Love," "The Kid is Hot Tonite," "Notorious", "Turn Me Loose," "When It's Over," "Heaven In Your Eyes" and "Queen of the Broken Hearts."

LOVERBOY went on to win a still-record six Juno awards in 1982, and until a three-year sabbatical in 1989, were one of the Top 5 grossing touring acts in the world, performing in over 100 cities across the U.S. and Canada. Their success made them the first Canadian group ever to earn Columbia Records' exclusive Crystal Globe Award, celebrating the sale of over five million albums outside their native country. Since 1992, the band has maintained a steady road presence, with Sony/Legacy releasing a greatest hits compilation, LOVERBOY – CLASSICS, in 1993, which went gold five years later. In 2001, the band released a live greatest hits CD, Live, Loud & Loose, which captured the group doing what they do best, entertaining their legion of rabid fans.

In 2005, LOVERBOY celebrated 25 years together by performing in selected cities throughout the U.S. and Canada. During the summer tour, the band introduced a couple of brand-new songs, which led to Just Getting Started, their first new studio album in a decade. In March 2009, the group was inducted into the Canadian Music Hall Of Fame at the Juno Awards show at GM Place in Vancouver, BC, where they joined the likes of Bryan Adams, Leonard Cohen, Neil Young and David Foster.

Along with Reno and Dean, LOVERBOY still includes original members Doug Johnson on keyboards and Matt Frenette on drums, with Ken "Spider" Sinnaeve (a former member of Dean and Frenette's pre-LOVERBOY band Streetheart), replacing the late Scott Smith on bass, and continues a healthy touring schedule around the world.

"Being in a band is kind of like being on a team," says Reno. "Everywhere we go, we try to make it look and sound good."

TICKETS:
Tickets are $50.00, $60.00, and $70.00 plus tax and an online/phone ticketing fee (this fee is waived when tickets are purchased at the Gift Shop). Tickets in the ADA section are for patrons with mobility disabilities and up to three companions. If companion seating is not available because the ADA section is sold out, Grand Falls will offer other seats as close as possible to the accessible seat, if available, at the purchase price of the other section.

Doors open at 7 PM for the 8 PM show. This show is open to all ages.