Taste of Home Cooking Show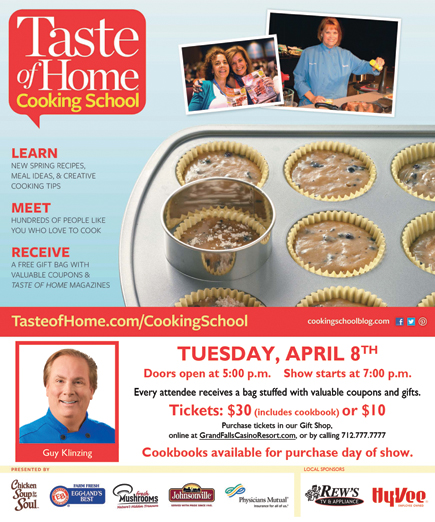 Tuesday, April 8, 2014 at 7 p.m.
Vendor Booths open at 5 p.m.

Drop your whisks, grab your friends and join us for a night of food & fun at the 3rd Annual Taste of Home Cooking School show live at the Grand Falls Casino Resort Event Center. Exhibit booths will be open from 5-7 p.m., and the cooking show starts on stage at 7 p.m.

During this interactive event, watch top culinary expert Guy Klinzing demonstrate new recipes that can easily be re-created at home. Armed with new culinary tips and techniques, you'll be sure to impress family and friends with sophisticated, yet surprisingly easy-to-make, dishes.

Not only will those attending leave the event with new recipe ideas, they'll go home with a valuable gift bag filled with an assortment of products and coupons, including two Taste of Home magazines. There also will be a chance to win one of many exciting door prizes including the Chefs' homemade award winning recipes created during the show!

Grab your friends and plan for a great evening of fun!

Seats are limited so reserve yours today. Tickets are $10 or $30 ($30 tickets include a Taste of Home cookbook as well as your reserved seat. These seats are limited to the first 6 rows of sections B or C) plus tax and an online/phone ticketing fee (this fee is waived when tickets are purchased in the Gift Shop). Tickets in the ADA section are for patrons with mobility disabilities and up to three companions. If companion seating is not available because the ADA section is sold out, GFCR will offer other seats as close as possible to the accessible seat, if available, at the purchase price of the other section. Tickets are on sale in the Gift Shop and online or by calling 712-777-7777 or 877-511-4FUN.

Cookbooks will be available day of show. Doors will open at 5 p.m.to allow guests to visit local vendors before the show . Make sure to grab a bite to eat at one of our three dining options before enjoying the Taste of Home Cooking School .
Any age welcome to attend this event.