David Lee Murphy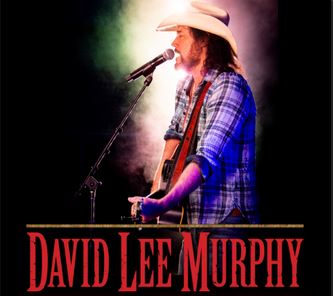 No Refunds Or Exchanges!!!

David Lee Murphy is best recognized by his massive hit single "Dust On The Bottle". But he is also known as one of Country Music's best songwriters. He has written songs for superstar artists like Kenny Chesney, Jason Aldean, Luke Bryan, Eric Church, Florida Georgia Line, Keith Urban, Brad Paisley, Brooks & Dunn, Hank Williams, Jr. and others.

Murphy developed his musical style as a teenager in Southern Illinois. Although both parents were schoolteachers, he was an indifferent student. Instead of studying books, he studied the sounds of such "outlaw" country musicians as Waylon Jennings and Willie Nelson. He was also deeply influenced by southern rock bands such as Lynyrd Skynyrd, The Allman Brothers and ZZ Top.

Pursuing a career in music, Murphy moved to Nashville and spent years honing his craft as a songwriter. He also formed a band, The Blue Tick Hounds, and played the honky tonks of Middle Tennessee and clubs throughout the South. "I really concentrated on my songwriting", Murphy states. "I wanted to get better so I could record my own songs." Several rough demos of Murphy's compositions, including the song "Party Crowd" caught the attention of MCA executive Renee Bell who passed Murphy's music along to Grammy and CMA Award winning producer Tony Brown (George Strait, Reba McEntire, Vince Gill and others). After hearing the song demos, Brown, who had been following Murphy's progress as a performer and songwriter, decided it was time to sign Murphy as an artist to MCA Records. Murphy's debut platinum selling album for the label, Out With A Bang, produced a string of hits including the title track "Out With A Bang", "Fish Ain't Bitin'" and "Just Once", which was featured in the movie 8 Seconds about bull rider Lane Frost. Also on that album were the hit singles "Party Crowd" (Radio & Records awarded it most played song on Country Radio in 1995) and the #1 single "Dust On The Bottle". Both songs have become staples at Country Radio. Murphy's follow-up album Gettin' Out The Good Stuff spawned the hit singles "Every Time I Get Around You", "The Road You Leave Behind", "Breakfast In Birmingham" and the cult classic "Genuine Rednecks".

Murphy went onto record two more albums. We Can't All Be Angels produced the hit single, "All Lit Up In Love" and "We Can't All Be Angels" that was featured in the Patrick Swayze movie Black dog. Murphy's album Tryin' To Get There (the title track he wrote with friend and musical hero Waylon Jennings) produced the Top 5 single "Loco".

Murphy decided to take a break from recording as an artist and concentrate on full time songwriting. He has earned over two dozen songwriting awards for songs he has written for superstars like Kenny Chesney, Jason Aldean, Luke Bryan, Keith Urban, Florida Georgia Line, Thomas Rhett, Eric Church, Brad Paisley, Hank Williams Jr., Brooks & Dunn, Reba McEntire and others. Some of his hits include songs by Kenny Chesney ("Here And Now", "Live A Little", "Living In Fast Forward", "Pirate Flag", "Til It's Gone"); Jason Aldean ("Big Green Tractor", "The Only Way I Know"); Jake Owen ("Anywhere With You"); Thompson Square (Grammy-nominated "Are You Gonna Kiss Me Or Not"); Kip Moore ("Last Shot"); Justin Moore ("Why We Drink'); Gary Allan ("A Feelin' Like That"); Josh Thompson ("Way Out Here") and Blackberry Smoke ("Good One Coming On").

Murphy was content writing songs and touring. He had no plans to record another album. But country music superstar Kenny Chesney convinced him otherwise. "I've been friends and written songs with Kenny (Chesney) for years," Murphy reflects. "I sent him some songs for one of his albums a couple of years ago, and he called me up. He goes, 'Man, you need to be making a record. I could produce it with Buddy Cannon, and I think people would love it." It's hard to say no to Kenny Chesney when he comes up with an idea like that." "Kenny was really influential in the songs that we picked," says Murphy. "Over the course of the next year or so, we got together, talked about it and picked out songs. I wanted to record songs of mine that people haven't heard before, that are new. We wanted to make the kind of album that you would listen to if you were camping or out on a lake, fishing. Or sitting anywhere, just having a good time."

The album titled No Zip Code, contains 11 songs written by Murphy with some of Nashville's finest songwriters. It yielded the # 1 single and duet with Chesney, "Everything's Gonna Be Alright" and earned Murphy his first CMA Award for Musical Event of the Year Despite all his success as an artist, Murphy always goes back to his love of songwriting. "I've had a crazy good time," says Murphy. "I've been really fortunate. A lot of great artists have recorded my songs. I get up every day and get to do something I really love to do, which is write songs. I get to be with artists and the best songwriters anywhere. Plus, I get to record. I sing the demos of the songs, so I'm making little records and being in the studio".

Tickets are $55.00, $50.00, and $40.00 plus tax and an online/phone ticketing fee (this fee is waived when tickets are purchased at the Gift Shop). Tickets in the ADA section are for patrons with mobility disabilities and up to three companions. If companion seating is not available because the ADA section is sold out, Grand Falls will offer other seats as close as possible to the accessible seat, if available, at the purchase price of the other section.

Doors open at 7 PM for the 8 PM show. This show is open to all ages.

David Lee Murphy Website: www.davidlee.com

We want you to enjoy the entire show! Please arrive 30 minutes before show time to allow time for seating. All events will start at the listed time.