The Clairvoyants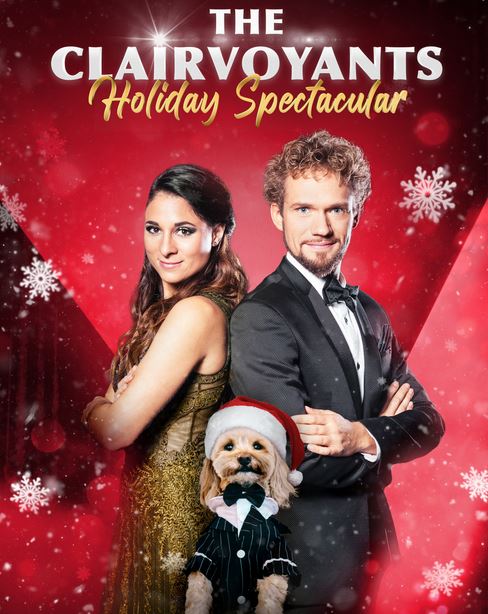 No Refunds or Exchanges!!!

Amélie van Tass and Thommy Ten are "The Clairvoyants." They were both born and raised in
Austria and now reside in Austria and Las Vegas. When they met in October 2011, they began to develop their "second sight" act, and two months later brought it on stage for the first time. Within a year they had developed a full-length show. Shortly thereafter, they started touring Europe. In 2014, they received their first long term contract in America. After a six-month run in the show "The Illusionarium," they were offered a featured spot in the largest touring magic show in the world, "The Illusionists". The Clairvoyants decided to take part in the biggest talent show in the world, "America's Got Talent," and competed in Season 11.

After four months, eight different performances and over 100,000 contestants, America voted The Clairvoyants second place. They also appeared twice on NBC's new show "America's Got Talent: The Champions." Over the years The Clairvoyants have collected many awards worldwide. In 2015 Van Tass and Ten were enthusiastically chosen as the "World Champions of Mentalism," a prize that hasn't been awarded in 30 years. In April 2017 the Academy of Magical Arts and The Magic Castle Hollywood awarded Thommy Ten & Amélie van Tass "Stage Magicians of the Year" for their extraordinary art. In 2020 they received the Award "Mandrakes d'Or" in Paris, France. The pair filmed a TV special at the Vienna Opera House in 2021 and also performed 500 shows as part of the cast for "America's Got Talent Las Vegas LIVE at the Luxor Hotel & Casino," from 2021-2022. In 2022, The Clairvoyants performed on season 8 the CW's Masters of Illusion.

Most recently, the mentalism duo appeared on Britain's Got Talent in December 2022.
Throughout their 10+ years performing together, Thommy and Amelie's connection has grown
even stronger, bringing their clairvoyance to another extraordinary level. They pair got engaged in 2019 and then married at the Little White Chapel in Las Vegas in 2022. Thommy and Amelie currently live in Las Vegas and plan to tour their full-length show in the US and Europe in 2023.

Tickets are $60, $45, and $35 plus tax and an online/phone ticketing fee (this fee is waived when tickets are purchased at the Gift Shop). Tickets in the ADA section are for patrons with mobility disabilities and up to three companions. If companion seating is not available because the ADA section is sold out, Grand Falls will offer other seats as close as possible to the accessible seat, if available, at the purchase price of the other section.

Doors open at 7 PM for the 8 PM show. This show is open to all ages.

We want you to enjoy the entire show! Please arrive 30 minutes before show time to allow time for seating. All events will start at the listed time.