John Kay & Steppenwolf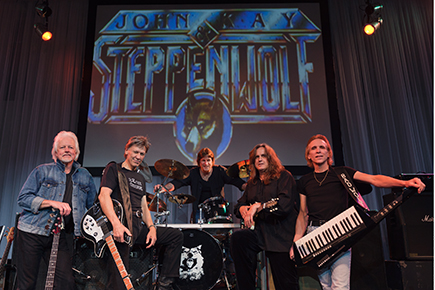 Saturday, March 25, 2017 at 8 P.M.
In 1967, John formed Steppenwolf in Los Angeles. Powered by his gritty vocals, the band's blues-based rock burst upon an unsuspecting public in the summer of 1968, creating timeless classics as: "Born To Be Wild" "Magic Carpet Ride" "The Pusher" "Rock Me."
Following Kay's decision to break up the band in the mid 70's, he embarked on a solo career that saw the release of albums such as: "Forgotten Songs and Unsung Heroes" "My Sportin' Life" "All In Good Time."
In the late 70's John learned that several bogus groups, using the name Steppenwolf, were touring and trashing the very reputation of the band that Kay had created. In 1980 he decided to act and the John Kay Band quickly became John Kay and Steppenwolf. Several years of intensive touring followed and resulted in the rebuilding of the name.
Since the early 80's, the group has featured the considerable talents of John's coproducing and writing partner, Michael Wilk (keyboards/bass/vocals) and longtime drummer/vocalist Ron Hurst. Recently, they were joined by newest member, lead guitarist/vocalist, Danny Johnson.
Since re-establishing the name, John Kay and Steppenwolf have released five albums and have toured annually on a worldwide basis.
In 1994, Kay returned triumphantly with the Wolf to play concerts in the former East Germany, where he was reunited with friends and relatives he had not seen since he was 4 years-old. With sales in excess of 20 million units worldwide (and increasing annually) and songs licensed for use in 37 motion pictures and 36 television programs (as of this writing), the group continues to focus on the future.
Tickets are $60 and $55 plus tax and an online/phone ticketing fee (this fee is waived when tickets are purchased in the Gift Shop). Tickets in the ADA section are for patrons with mobility disabilities and up to three companions. If companion seating is not available because the ADA section is sold out, GFCGR will offer other seats as close as possible to the accessible seat, if available, at the purchase price of the other section. Hotel packages are available by calling 877-511-4FUN. Packages include a one night stay in a deluxe king or double queen room, two tickets to the show and two dinners at Robert's Buffet. There are a limited number of hotel packages available.
Doors open at 7pm for the 8pm show.
Must be 21 yrs of age or older to attend.