Osmond Brothers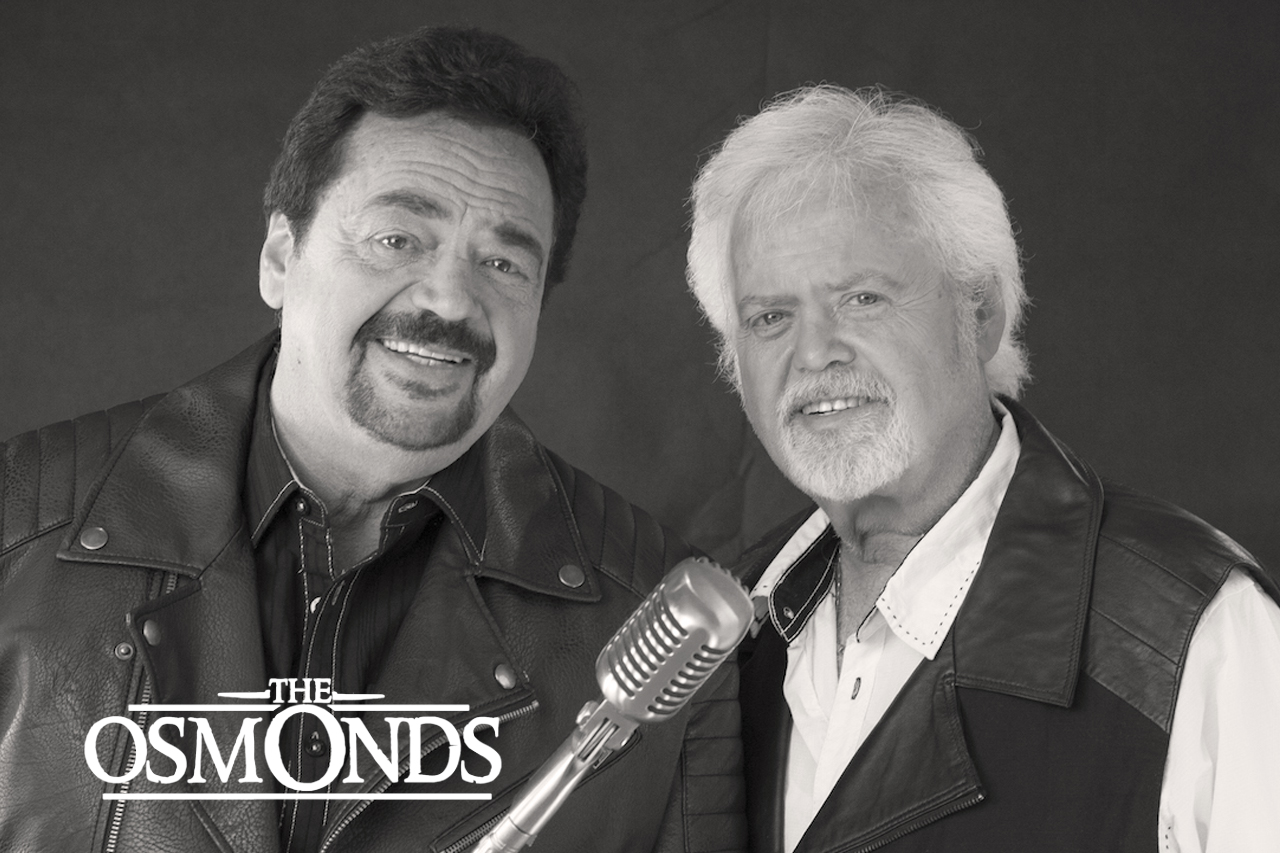 Saturday, September 30, 2017 at 8:00 pm

The Osmond Brothers (Merrill and Jay) are no strangers to show business. The Osmonds are one of the most well-known entertainment families in the world. Their example of an unfailing belief in God and family, along with a wide-range of talent, creates the unique combination that has led to the tremendous success of the Osmonds. The Osmond family has spent more than 50 years working together - entertaining audiences all over the world, with music historians noting them as the longest running group in history, having never been disbanded. Their spirit of dedication and loyalty to the craft is felt and reciprocated by their equally dedicated and loyal following. It is this same spirit they bring to their many music styles.

The Osmond Brothers' career began in "Barbershop" as young boys, and it is that familiar harmonizing that has become the "signature" on their music. They skillfully play several musical instruments among them; dance, write music, and create electricity between stage and audience that can only be felt during an Osmond performance. The Osmond family has sold millions of records worldwide, earning them more than 53 gold and platinum records along with other prestigious awards. They surpassed both Elvis' and the Beatles' best single year success by being honored with nine gold records in 1971.

The Osmond Brothers have created a niche all their own in the field of entertainment. Their remarkable success with Pop, Rock & Roll, Country, and Gospel music has enabled them to touch audiences both young and old, and every age in between. Mastering this variety of musical genres is the contributing factor that has seen the Osmonds' tremendous success in television, recording, and concert performances.

The Osmond Brothers are as at home on the road as they have been when performing for record-breaking crowds for many years in Branson, Missouri. The audiences who come to see the Osmonds not only see a world class show, but leave feeling they truly have come to see their friends. It's that charismatic interaction these brothers have with people that make audiences come back show after show.

Highlights in their careers involve an ABC made-for-television movie about the Osmond family, "Inside the Osmonds," which aired in 2001. Granada Television filmed a documentary for the U.K.'s ITV, which aired on primetime in 2003, titled "Being the Osmonds." Several CDs have recently been released, including "The Osmonds Ultimate Collection" which soared to the top of the U.K. charts in 2003. August 7, 2003 brought a highly esteemed honor to the Osmond family; the seven performing Osmonds received a star on Hollywood's Walk of Fame. All six performing Osmond Brothers were honored to be among the performers for Her Majesty Queen Elizabeth II and His Royal Highness The Duke of Edinburgh at the 75th Royal Variety Performance held in Edinburgh November 24, 2003. The Osmond Brothers were honored once again, when they received an unprecedented two standing ovations during this Royal Variety Performance. There have recently been several sold-out U.K. tours, as well as many successful tour dates across the U.S., including the August 2007 50th Anniversary Celebration with all family members joining together onstage in Las Vegas. This memorable occasion was taped for a PBS television special (which aired nation-wide March 2008), as well as a DVD celebrating this milestone in their entertainment career. A music CD of the 50th Anniversary celebration, and one titled "50 Years – 50 Hits" have also been released to mark the occasion. The entire Osmond family then performed together on a 50th Anniversary World Tour, ending in July 2008 when they performed with the Mormon Tabernacle Choir and Orchestra at Temple Square. This was the first time the family had toured together in 27 years. The Osmond Brothers continue to perform regularly, having just recently finished another "Up Close & Personal Tour" throughout the U.K. Their latest CD releases are titled, "The Osmonds – Can't Get There Without You" and "Snapshot: The Osmonds."

Tickets are $20 plus tax and an online/phone ticketing fee (this fee is waived when tickets are purchased in the Gift Shop). Tickets in the ADA section are for patrons with mobility disabilities and up to three companions. If companion seating is not available because the ADA section is sold out, GFCGR will offer other seats as close as possible to the accessible seat, if available, at the purchase price of the other section. Hotel packages are available by calling 877-511-4FUN. Packages include a one night stay in a deluxe king or double queen room, two tickets to the show and two dinners at Robert's Buffet. There are a limited number of hotel packages available.
Doors open at 7pm for the 8pm show.
Must be 21yrs of age or older to attend.